Four Winds Casinos
Are you planning a wedding and getting stressed over the tedious decisions? Join us March 22, 2015 for the Lucky Bride event at Four Winds New Buffalo for ideas for your perfect day.  Until then, here are a few tips for selecting a venue, implementing your vision, and deciding what to offer for dinner.  
Read More
LaSalle Bristol National Sales Meeting at Silver Creek
March 4th @ 11:06 AM
In February, LaSalle Bristol held their 2015 national sales meeting at Silver Creek Event Center at Four Winds New...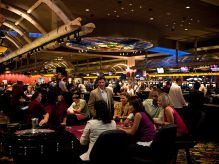 Gaming 101: Craps
February 17th @ 8:47 AM
At Four Winds Casinos, we understand that it can be intimidating to walk up to a table with seasoned players and try to...
Strawberry Balsamic Shrimp Pasta
February 9th @ 10:15 AM
Make your special someone a dinner this Valentine's Day that they will never forget...
2014 Recap!
January 20th @ 8:50 AM
From delectable entrees and relaxing getaways to exciting concerts and jackpots of all sizes, last year was one to...