Interview with Johnny Mathis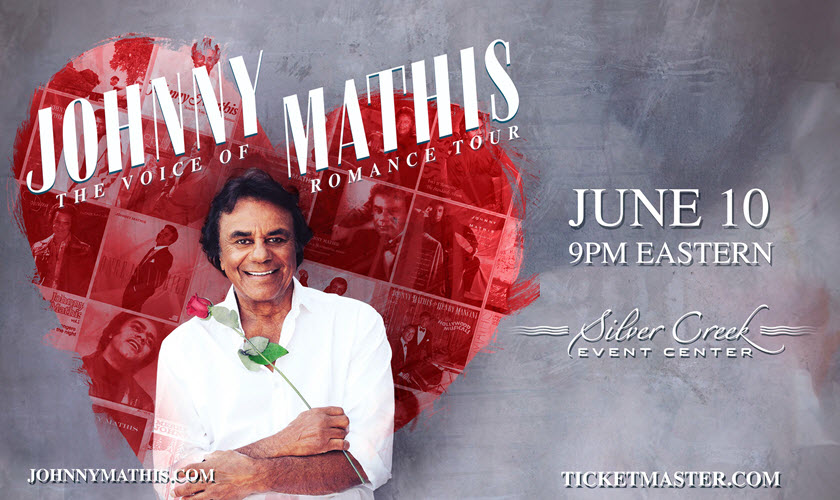 Johnny Mathis has recorded more than 80 albums, 6 Christmas albums, and has sold millions of records, worldwide. From Opera training to college sports, Mathis is multitalented performer who has become the voice of romance through the decades. He has taken time to answer some questions about his life in the music industry.
Which of your albums was the most difficult to create?
Even though it turned out to be one of my favorite albums, "IN A SENTIMENTAL MOOD: MATHIS SINGS ELLINGTON," was a challenge for me to record. Duke Ellington was one of my idols growing up and I wanted to do his music justice, so I put a lot of pressure on myself to do the best possible recording. It did get nominated for a GRAMMY, so I think we did okay.
Some say athletics and team sports help shape an individual. What did your time in sports help you with in the music industry?
I was a high jumper (and basketball player) in high school and college. At the time, I had the record for the high jump at San Francisco State and even got an invite to have a chance to qualify for the US Olympic team for the 1956 Melbourne Olympics. But at the very same time I got the chance to sign a contract with Columbia Records and I'm still with them, 66 years later.
You need to be disciplined in sports and in singing, so my athleticism has been instrumental in my career longevity.
Of everyone you have collaborated with, who was the most exciting?
It would definitely be working with Nile Rodgers and Bernard Edwards of CHIC on my recording "I Love My Lady."
Followed closely by Thom Bell and Linda Creed, who wrote and produced my album "I'm Coming Home." They were wonderful to work with, just the best.
Also so many great arrangers and writers like Percy Faith, Allyn Ferguson, Jerry Fuller, to name a few.
What is it like to watch a production that your music stars in?
I was fortunate to have recorded the theme song for the long running series, "Family Ties," a duet with a wonderful singer and great friend, Deniece Williams.
Also, with another great singer, Jane Olivor, we sang the theme for the movie, "Same Time, Next Year." The best memories of hearing these songs now were just the privilege to record with these two wonderful singers!
Of all the award shows you have participated in, which one is the most fun and why?
Well, probably the most exciting Award Show that I was ever involved in was being on the Academy Awards Broadcast and performing one of the nominated songs that year with Jane Olivor, "The Last Time I Felt Like This," from the movie "Same Time, Next Year."
Do you remember what you were doing and how you were feeling when you received your first Grammy nomination?
I've been very fortunate to have had some of my recordings recognized by my fellow performers, the Grammys, and other organizations. I can only say that the feeling is wonderful.
If you didn't sing the beautiful ballads that you do, what type of music would you like to sing?
I was also musically trained in Opera. My first voice coach was a wonderful woman, Connie Cox, who helped me so much as a teenager, and I credit her for giving me the right tools that I would need to keep singing for a long time.
What is something you have to have with you on tour?
I always need to listen to music, whether it's on a CD player, or streaming on my phone. It's essential to get me ready for my performances.
What is the first thing you do after a performance?
Take a deep breath and try to come down from the high that I get from performing. I love to sing, to perform in front of an audience. I still get a bit nervous, but now that I'm older, I don't feel as nervous as I used to. I just have a great time.
If you would like to see Johnny Mathis live in concert at Four Winds Casino New Buffalo you can purchase tickets here. See more upcoming performances at Silver Creek Event Center.