Spartan Nash at Silver Creek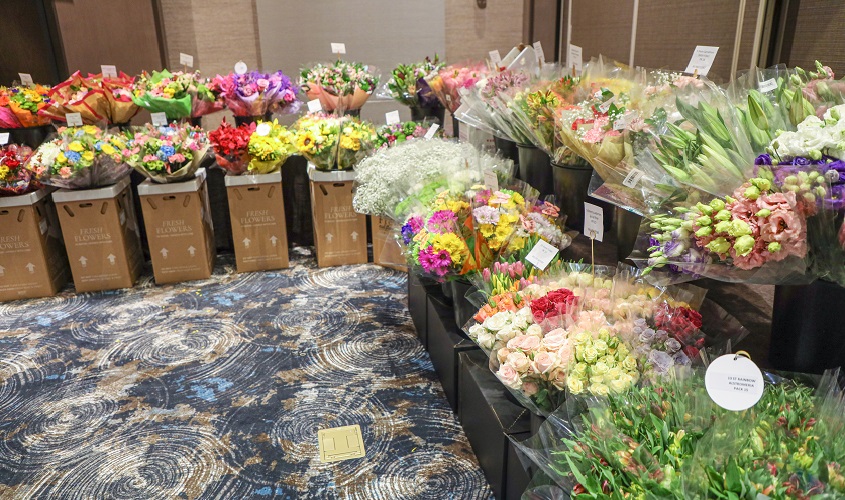 Silver Creek Event Center and Ribbon Town Conference and Event Center are the perfect locations to host conferences, weddings, and more. Spartan Nash recently chose to host a two-day conference at Four Winds New Buffalo's Silver Creek Event Center.
Why did they choose Four Winds New Buffalo?
"We picked Four Winds for its casino and conference area. It's centrally located in the Midwest for our attendees coming from Chicago, Indianapolis, Grand Rapids, and Detroit. The event center was ideal for our two-day conference. With new carpets and great lighting, the space felt upscale and had a business atmosphere. I'd also like to mention that Ken, Autumn, and Ron were so accommodating with our needs for additional tables and fixtures. They made our load-in day and tear down very easy. A huge benefit is having access to carts and dollies to move the product in. And the loading dock is close to the event space."
When booking an event with Four Winds Casino you're not only receiving customizable, luxurious spaces, you have access to the best sales team to help coordinate and execute any event.
"Here is a list of how Four Winds helped: loaded in all our products, provided additional tables & covers, chairs and water, and provided service on where to go throughout the casino and event area.
Frances and Autumn were awesome to work with! Their pleasant attitudes and willingness to answer questions were so helpful in planning our event. Response time from my phone calls and emails was very fast. Highly impressed with their professional approach to running and planning our event."
"Our event looked spectacular inside the event center. The lighting, table covers, and atmosphere were a perfect backdrop for our event."
We couldn't agree more! The Spartan Nash event boosted loads of flowers and arrangements, all showcased as a sneak peek at the Mother's Day offerings at their stores.
A multi-day event can be stressful but our team is ready to help with all your needs as well as featuring accommodations, dining, and entertainment for you and your guests' down time.
"We had so much positive feedback from our guests about how clean the casino and event center were. I also appreciated the high level of security provided. The product we brought for our event was under safekeeping overnight. The casino and hotel added the extra touch of fun and relaxation we were looking for to have a successful event. The hotel rooms were very clean and there was free water in the room! The room was very quiet also. The hotel team, at the desk and the bell stand, were very pleasant and helpful. I highly recommend Four Winds to hold an event or conference. I know we will be back!"
The two-day conference was beautiful and smelled like spring! We look forward to them holding more of the Spartan Nash events in the future. If you are ready to start planning your event at Four Winds Casino, contact our sales team and let us bring your event to life.