Justin and Amanda's Wedding at Silver Creek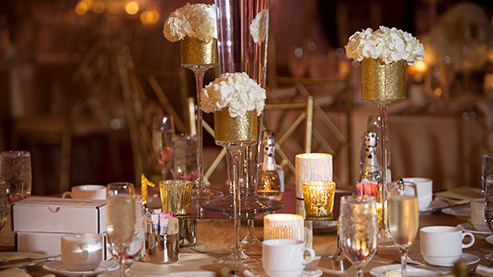 Congratulations to Justin and Amanda on their recent marriage! This lovely couple had a beautiful wedding at Silver Creek Event Center at Four Winds Casino New Buffalo in November 2019. We were thrilled to be part of the wedding planning and even more excited to see all the little details come together for Justin and Amanda's special day. The breathtaking bride has been kind enough to share why they chose Silver Creek Event Center for their special day.
How did you come to choose Four Winds Casino for your wedding day?
Justin and I had a few free nights at the casino and decided to use them while we looked for a venue in the New Buffalo area. We couldn't find what we were looking for to accommodate our taste and guests. As we were looking up different venues, we realized Silver Creek was at the Casino. It was perfect because everything we needed was in one place. It could easily accommodate all of our guests, the hotel is attached to the venue, so no one had to commute and we didn't have to set up transportation, the casino and night life were available to indulge and make it a fun mini-destination trip. Everything we wanted was available and the packages presented had everything and more compared to other venues.
Planning a wedding has an immense amount of details and check lists. How did the Four Winds sales team assist you in making your event flawless?
Tim helped us plan our wedding. He was literally one of the best parts of the entire experience. He was so on top of everything and made suggestions or thought of things I didn't. Having Tim's help really relieved the extra pressure and stress of planning a wedding. He made sure everything was done and it was done the right way. I had plenty of guests tell us Tim and the staff were just so nice and helpful. Even down to the bell hop (I think his name was Jeff). I don't think the event would have turned out the way it did without Tim. I would give him 10 stars!
We hosted both our rehearsal dinner and reception at Four Winds New Buffalo.
We had the rehearsal dinner at the Hard Rock. That was a lot of fun. We went with a "buffet" style option so our guest could choose what they wanted and eat when they wanted. This was Tim's suggestion and we are glad we went with it. This style really fit our personality and our guests'. We were able to mingle, and it took the formality out, still providing a nice evening.
And for the Reception?
We used the catering option. We had 6 different rotating appetizers which was pleasing to our guests! Some of them even thought it was the actual meal. We had the fillet of beef, portobello mushroom, and chicken marsala, all of which were fantastic. The guests were raving about the food.
What was the most memorable part of your wedding with us?
The most memorable experience was the wedding day itself. Everything went flawlessly. We had such a great time. The staff was nice, accommodating, and on top of their game. The venue was set up perfectly. The food was delicious. Everything came together and it was amazing.
Would you change anything about your day?
Overall, we had the best wedding weekend. We personally think this was the best wedding we have ever been to, maybe we are biased because it was our own. We had so many guests compliment us on our party. That was our goal. We wanted to throw a big party and give our guests an amazing, fun night. Four Winds/Silver Creek and all staff were incredible. If we were to do it all again, I don't think there is a single thing we would change.
Silver Creek Event Center offers over 17,000 square feet of flexible space to hold your special event. Our professional sales and catering staff can assist you every step of the way from the engagement party, flowers and menu planning to the wedding night celebration. We have everything you need to make your special day unforgettable. To learn more about planning your event, please contact our sales team.