Stars At Four Winds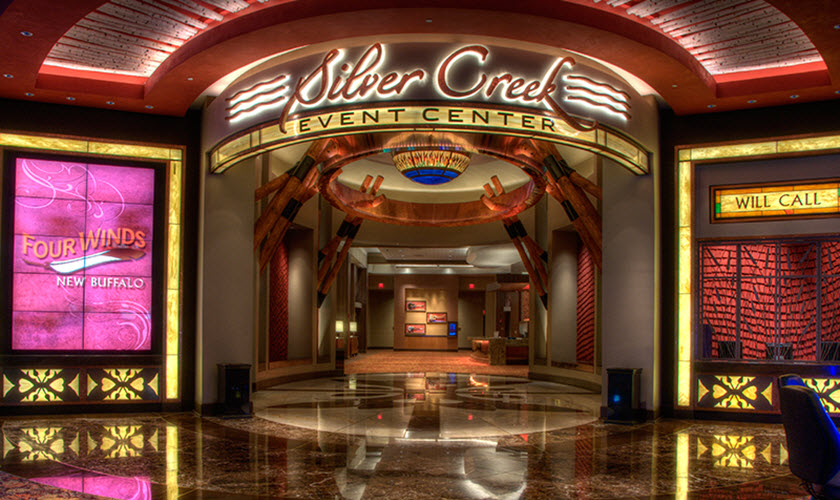 Silver Creek Event Center and Ribbon Town Event Conference and Event Center are the places to go for legendary concerts and comedians!
Parmalee – March 18 – Ribbon Town
ACM "New Vocal Duo/Group of the Year" nominee Parmalee is one of Country music's most successful acts: the Platinum-selling band of brothers is one of only four groups since 2001 to earn three consecutive Top 10 singles from a debut Country album. Since their debut at Country radio, Parmalee has earned over 1 billion on-demand streams. Heralded as "Country Music's Breakout Stars" by MSN Entertainment, Parmalee has supported Brad Paisley and Jake Owen on national tours while finding time to perform on NBC's TODAY show, The Kelly Clarkson Show, The Late Late Show, FOX & Friends All American Summer Concert Series, MLB Central's Studio 21, The Queen Latifah Show, and more.
Comprised of brothers Matt and Scott Thomas (lead vocals/guitar and drums, respectively), cousin Barry Knox (bass), and life-long friend Josh McSwain, the North Carolina natives had a legendary return to the top of the charts with their PLATINUM-certified No. 1 single with Blanco Brown, "Just the Way," with their follow up single, "Take My Name" from their new album For You, then becoming a multi-week No. 1 hit at Country radio. Their latest single "Girl In Mine" is available now. For more information, visit: http://www.parmalee.com.
March 24 – REO Speedwagon – Silver Creek 
Formed in 1967, signed in 1971, and fronted by iconic vocalist Kevin Cronin since 1972, REO Speedwagon has rocked to the top of the charts with a RIAA-certified 22 million albums sold in the U.S., 40 million around the globe, and a string of worldwide hit singles.  The group's landmark album, "Hi Infidelity," spent 15 weeks in the number one slot and went on to earn nine-times certified platinum sales.  Thirty–plus years since that release, Cronin and bandmates Bruce Hall (bass), Neal Doughty (keyboards), Dave Amato (lead guitar) and Bryan Hitt (drums) are still electrifying concert audiences with fan favorites such as "Keep On Loving You," "In Your Letter," "Can't Fight This Feeling," "Take It On the Run," "Time For Me To Fly," "Roll With The Changes," and more.  More information about REO Speedwagon is available at www.speedwagon.com.
Sister Hazel – April 7 – Ribbon Town
Originating from Gainesville, Florida, Sister Hazel is comprised of five gifted, seasoned musicians whose wellspring of natural talent has been called "one of the Top 100 Most Influential Independent Performers of the last 15 years," by Performing Songwriter Magazine.
Their song "All for You," topped the adult alternative charts during the summer of 1997 and the success propelled their album to platinum status. Since then, the band has become firmly established not only in rock and alternative music, but now in country with four back-to-back Billboard Top Country Album Chart entries.
Living up to their fan-centered reputation, the band was a pioneer in the themed cruise industry by co-founding "The Rock Boat" and annually hosts events like the "Hazelnut Hang," and "Camp Hazelnut" that focuses on creating unique experiences and interacting with the fans.
Sister Hazel has been equally attentive to connecting with their audience through social media having amassed over a million social followers. In addition to the events and touring, the band also gives back with "Lyrics For Life." Founded by singer Ken Block, the charity unites musicians and celebrities for concerts and auctions to benefit cancer research and patient-care charities. More information on Sister Hazel can be found at www.sisterhazel.com
Tesla – April 21 – Silver Creek 
TESLA may have been born in the mid 80s eruption of leather, spandex, and big hair, but this band has never been about those things.  Their bluesy, soulful sound is strongly embedded in the roots of organic, authentic, 1970s rock and roll. The same roots that produced bands like The Allman Brothers, Grand Funk Railroad, AC/DC, Lynyrd Skynyrd, and Aerosmith.
TESLA's 1986 platinum debut album, Mechanical Resonance, produced iconic hard rock hits, "Modern Day Cowboy" and "Little Suzi."  1989's The Great Radio Controversy brought in rock favorite "Heaven's Trail (No Way Out)" and poignant ballad, "Love Song".  In 1990, TESLA helped reshape the face of modern hard rock music by stripping down to the Five Man Acoustical Jam, a loose, informal collection of their biggest hits peppered with rock and roll classics by the Beatles, Stones, and others, such as their most popular single, a cover of Five Man Electrical Band's "Signs."
Another platinum album, Psychotic Supper, was released in 1991 and as the early 90s gave way to Seattle's grunge wave, TESLA, unlike many other bands of their era, managed to keep pushing forward thanks to loyal fans and their ever-present unpretentious approach to craft.  After a worldwide arena tour as headliners, they released Bust a Nut in 1994.  Then, internal band conflicts shut everything down until 2000.
After a brief break, they exploded back onto the scene with a sold-out hometown show at the Arco Arena in Sacramento.  TESLA was back, on their own terms.  They started their own label and released their own music. The fans had never gone away, and TESLA was still selling hundreds of thousands of albums.  Since then, they have continued to release new original music, live sets, and more.  They are as productive as they have ever been.
TESLA has endured many of the same taste-changing challenges that affected many in the post-grunge world, but through it all, their blue-collar work ethic and dedication to the faithful fan base has helped them not just survive but thrive.  TESLA's legacy is alive and well as they continue to record and sellout venues all over the world.  As comfortable, rugged, and dependable as your favorite pair of boots, they endure.  TESLA is a celebration of the greatest spirits of rock and roll.
KC and the Sunshine Band – May 6 – Silver Creek
KC and the Sunshine Band are still as widely popular today as they were when they first danced into the music scene 40 years ago. Harry Wayne Casey — KC for short — developed a unique fusion of R&B and funk, with a hint of a Latin percussion groove, giving us an impressive string of hits like "GET DOWN TONIGHT," "THAT'S THE WAY (1 LIKE IT)" and "SHAKE YOUR BOOTY." With sales ofover 100 million records, nine Grammy nominations, three Grammy Awards and an American Music Award, KC and the Sunshine Band was one of the most progressive bands of the 70's and is credited with changing the sound of modern pop music!
KC and the Sunshine Band play over 100 live shows annually, circling the country and playing dates regularly throughout Europe, Australia and South America. KC's songs have stood the test of time and you can ask any one of the thousands of fans who spend the entire concert on their feet, dancing and shaking their booty.
KC won a songwriting Grammy in 1976 for best R&B song for "WHERE IS THE LOVE," which was recorded by Betty Wright. He also received Grammy Awards for Album of the Year, as well as Producer of the Year in 1978 for his work on the 'SATURDAY NIGHT FEVER' soundtrack.
In 1975 he won the American Music Award for Best R&B Artist. In 2001, KC was honored with the NARAS Governor's Award, the highest honor given by a chapter of the Academy.
KC's music continues to be a favorite today. His songs have appeared in ads for companies like General Motors, Burger King, Payless Shoes, Papa John's Pizza, Old Navy, and Nick at Night. His music has also been featured in over 200 commercials and movies such as Forrest Gump ("Get Down Tonight"), Boogie Nights ("Boogie Shoes"), Boys Don 't Cry ("Rock Your Baby"), Rush Hour ("Get Down Tonight"), Carlito's Way ("Rock Your Baby", "Shake Your Booty" and "That's The Way I Like It"), and Austin Powers in Goldmember. In the summer of 2003, KC had a cameo in the feature film The In-Laws starring Michael Douglas and Albert Brooks.
KC's songs are regularly heard at sporting events, featured during Opening Ceremonies of the 2006 Winter Olympics in Torino, Italy and performing a free concert in Salt Lake City for the 2002 Winter Olympics. No stranger to the small screen, KC's songs have been featured in such shows as Desperate Housewives, Ally McBeal, American Bandstand's 50h Anniversary Party and most recently on American Idol and Dancing With The Stars with the help of the USC marching band. KC and the Sunshine Band have the distinction of having made more appearances on Dick Clark's New Year's Rockin ' Eve than any other artist in the program's history!
For more information on KC and the Sunshine Band, visit www.heykcsb.com and connect on Facebook, Twitter and Instagram.
Chicago – May 19 – Silver Creek
Earlier this year, Chicago announced their 38th studio album, BORN FOR THIS MOMENT, which arrived on July 15 via BMG on the heels of the previously released single "If This is Goodbye," now climbing the charts of radio.  Featuring the signature sounds Chicago fans have come to love, BORN FOR THIS MOMENT, produced by Joe Thomas, captures the true heart of this legendary band.  Over the entire course of 14 vibrant new songs, BORN FOR THIS MOMENT encapsulates the unique blend of award-winning and personal songwriting, multilayered harmonic vocalizations, and world-class arrangements that have been electrifying audiences across the globe for decades.
On September 30, 2022, Gravitas Ventures released Chicago's documentary "The Last Band on Stage" directed by Peter Curtis Pardini and narrated by the band's longtime friend and actor Joe Mantegna.  On March 14, 2020 Chicago was the last band playing in the U.S. as COVID lockdowns began.  The Last Band on Stage tells the incredible story of how the 55 year-old band survived a pandemic that stopped the world in its tracks.
"Chicago has faced many obstacles in lasting 55 years, but the pandemic was possibly their greatest challenge.  I'm excited for people to see the story of how they got back to the stage to continue performing," said director Peter Curtis Pardini.  "We're excited to be bringing The Last Band on Stage to audiences worldwide.  This funny and informative documentary offers an inside look at how the legendary band Chicago were able to produce content even during the height of the COVID-19 pandemic," said Gravitas Ventures' Acquisition Coordinator, Mackenzie Maguire.
Hailed as one of the most important bands in music since the dawn of the rock and roll era, the legendary rock and roll band with horns, Chicago, came in as the highest charting American band in Billboard Magazine's Top 125 Artists Of All Time.  And Chicago is the first American rock band to chart Top 40 albums in six consecutive decades.
Chicago received the Recording Academy's Lifetime Achievement Award from the GRAMMYS.  The Lifetime Achievement Award celebrates performers who have made outstanding contributions of artistic significance to the field of recording. A special award ceremony and tribute concert celebrating the honorees was held in 2020.
Chicago was inducted into the 2016 Rock and Roll Hall of Fame.  This was their first nomination.  They've been eligible since 1994.  A long time coming!
Chicago's first album, Chicago Transit Authority, was inducted into the GRAMMY Hall Of Fame in 2014.  Chicago managed to fuse pop, rock and jazz together perfectly in this double album.
Robert Lamm and James Pankow have become inductees of the Songwriters Hall of Fame in 2017.  These legendary songwriters wrote mega-hits such as, "25 or 6 to 4," "Saturday In The Park," "Feelin' Stronger Every Day," "Make Me Smile," and many others.
The International Trombone Association presented its 2020 Lifetime Achievement Award to James Pankow. The Lifetime Achievement Award recognizes people who have distinguished themselves by their contributions to the trombone profession over a long career.
Chicago's lifetime achievements include two Grammy Awards, two American Music Awards, Founding Artists of the John F. Kennedy Center for the Performing Arts, a star on the Hollywood Walk of Fame, a Chicago street dedicated in their honor, and keys to and proclamations from an impressive list of US cities.  Record sales top the 100,000,000 mark, and include 21 Top 10 singles, 5 consecutive Number One albums, 11 Number One singles and 5 Gold singles.  An incredible 25 of their 38 albums have been certified platinum, and the band has a total of 48 gold and platinum awards.
Chicago have toured every year since the beginning – they've never missed a year.  The original three band members are Robert Lamm on keyboards and vocals, Lee Loughnane on trumpet and vocals and James Pankow on trombone.  The band line-up also includes Wally Reyes, Jr. on drums, Tony Obrohta on guitar, Loren Gold on keyboards and vocals, Ray Herrmann on sax and flute, Neil Donell on vocals, Eric Baines on bass and Ramon "Ray" Yslas on percussion.
From the signature sound of the Chicago horns, their iconic vocalists, and a few dozen of ever-Classic Songs, this band's concerts are celebrations.  2023 marks the band's 56th consecutive year of touring!
Chicago continues to be true ambassadors for their beloved hometown, carrying the city's name with pride and dignity around the world.
Some of Chicago's hits include:
Make Me Smile               Does Anybody Really Know What Time It Is?
25 or 6 to 4                       Saturday In The Park
Beginnings                        Questions 67 and 68
Happy Man                       (I've Been) Searchin' So Long
Street Player                     Introduction
Old Days                            Free
Just You 'N' Me                Feelin' Stronger Every Day
If You Leave Me Now    Hard To Say I'm Sorry
Look Away                        Wake Up Sunshine
Hard Habit To Break    Baby, What A Big Surprise
Colour My World           Another Rainy Day In New York City
Call On Me                        Dialogue (Part I and II)
I'm A Man                          You're The Inspiration
More information on Chicago can be found at www.chicagotheband.com, Facebook@Chicago.Official, Twitter@chicagotheband, and Instagram@chicagotheband.
Colin Jost – June 2 – Silver Creek 
Colin Jost serves as a head writer at Saturday Night Live (SNL), television's longest running and most successful sketch and comedy show, now in its 48th season.  Jost originally joined the show as a writer in 2005 and became a co-head writer in 2012.  Jost has also co-anchored "Weekend Update" alongside fellow cast member Michael Che since 2014.
Jost has won five Writers Guild Awards, two Peabody Awards, and has been nominated for 12 Emmy Awards for his writing on SNL.  Jost and Che hosted special editions of "Weekend Update" on MSNBC during the 2016 Republican and Democratic national conventions as well as the primetime "Weekend Update Summer Edition" in 2017.  In 2018, they co-hosted the 70th Primetime Emmy Awards.
In 2015, Jost wrote "Staten Island Summer," a coming-of-age comedy that was released by Paramount Pictures and produced by Lorne Michaels.  Jost has since been seen in the films "How to Be Single," "Coming 2 America," and "Tom and Jerry."
As a writer, Jost has been published multiple times in The New Yorker and has contributed to the New York Times Magazine and the Huffington Post, amongst others.
In July 2020, Jost debuted his memoir, A Very Punchable Face.  The memoir is a series of essays, which documents pivotal moments in Jost's life including growing up in Staten Island in a family of firefighters, commuting three hours a day to high school, attending Harvard while Facebook was created, and more.  For every accomplishment and absurd moment, there is an honest, emotional one, told with a healthy dose of self-deprecation.
Lou Gramm – June 16 – Ribbon Town
Best known for being the original lead singer of Foreigner, Lou Gramm is among rock music's most successful vocalists. Foreigner's first eight singles made the Billboard Top 20 (4 went Top 10), making them the first band since The Beatles to achieve this milestone. Lou Gramm was the lead vocalist on all of Foreigner's hit songs, including "Feels Like the First Time," "Cold as Ice," "Long, Long Way from Home," "Hot Blooded," "Double Vision," "Blue Morning, Blue Day," "Head Games," "Dirty White Boy," "Urgent," "Juke Box Hero," "Break It Up" and "Say You Will." He co-wrote most of the songs for the band, which achieved two of its biggest hits with the ballads "Waiting for a Girl Like You", which spent ten weeks at #2 on the 1981-82 American Hot 100, and "I Want to Know What Love Is," which was a #1 hit internationally (U.S. and U.K.) in 1985.
Lou Gramm released his first solo album, Ready or Not, in January 1987 to critical acclaim and the single "Midnight Blue" reached the top five. This was followed by the late-1987 Foreigner album Inside Information, which reached number 15 on Billboard's album chart. The extracted "Say You Will" was released late that year, reaching number 6 on the Hot 100 early in 1988, and "I Don't Want to Live Without You" followed, reaching number 3 on the Hot 100 and number one on the adult contemporary chart in the spring. A third single, "Heart Turns to Stone" reached number 56 in the summer. Eventually a second solo effort, Long Hard Look, that was released in October 1989, included the top ten hit, "Just Between You and Me," and "True Blue Love," reached the Top 40. The album also included "Hangin' on My Hip," which was featured in the 1990 film Navy SEALs. Gramm also contributed a song to the soundtrack for the 1987 movie The Lost Boys, titled "Lost in the Shadows. "
In May 2013, Lou released his autobiography Juke Box Hero – My Five Decades in Rock 'n ' Roll. Gramm was inducted to the Songwriters Hall of Fame in June 2013.
For more information on Lou Gramm follow him on Facebook.
Happy Together – August 11 – Silver Creek
2023 will mark the 14th year of the highly successful, hit-filled summer package, The "Happy Together" Tour.  The touring sensation that has crisscrossed the nation delighting audiences for over a decade returns this summer with a show full of chart-topping hits from the '60s and '70s – an undeniable 61 Billboard Top 40 smashes.  The Tour is once again joined by The Turtles, who also act as musical hosts for the evening.  Along with The Turtles will be Little Anthony, Gary Puckett & The Union Gap, The Vogues, and The Classics IV.
The Turtles are best known for their harmony-heavy California pop sound.  With such hits as "Elenore," "She'd Rather Be With Me," "It Ain't Me Babe," "You Showed Me," and the title of the tour, "Happy Together," the band ruled the airwaves in the late '60s.  Ron Dante joins the line-up to delight with his own mega-hits, "Sugar" and "Tracy."
We are proud to present Little Anthony, who has over 60 years in show business and over 50 million records sold worldwide.  Little Anthony's voice has not changed a bit and is considered one of the greatest voices of all time!  Little Anthony was inducted into the 2009 class of The Rock & Roll Hall of Fame.  Some of the most iconic songs ever written that Little Anthony performs include: "Goin' Out of My Head," "Hurts So Bad,"  "Tears On My Pillow,"  "I'm On The Outside (Looking In)," and "Shimmy, Shimmy, Ko-Ko-Bop."
We are thrilled to have Gary Puckett & The Union Gap back on The "Happy Together" Tour.  Gary's trademark voice will be belting out his hits one more time.  Fans will affectionately remember "Young Girl," "Over You," "Woman, Woman," "This Girl Is A Woman Now," "Lady Willpower," "Don't Give In To Him," and more.
The Vogues are also known for their harmony-driven soaring pop sound.  The Vogues had numerous Top 10 hits with singles such as "Five O'Clock World," "You're The One," "My Special Angel," and "Turn Around Look At Me," among others.
The Classics IV, with their southern soft rock sound, are one of the most popular and influential pop groups of the '60s and '70s.  They achieved phenomenal success with hits "Spooky," "Stormy," "Traces," and "Everyday With You Girl."
The tour has played more than 50 plus shows a year and 2023 will be no exception.  More information on the Happy Together Tour is available at https://happytogethertour.com/.
Australia Pink Floyd – September 9 – Silver Creek
Selling over 4 million tickets worldwide and described by The Times as "The Gold Standard" and The Daily Mirror as "The Kings of the Genre," The Australian Pink Floyd Show gave its first ever concert in Adelaide, Australia in 1988.  Since then, they have performed in over 35 countries worldwide; played at David Gilmour's 50th birthday celebration and were even joined on stage by Rick Wright.  TAPFS is the leading and biggest show of its kind in the world.
Performing the music of Pink Floyd with note for note perfection, this critically acclaimed show has been astonishing audiences worldwide for more than three decades.  Always striving to reproduce the complete Pink Floyd experience and bring the music to new audiences, the show continues to include a stunning light and laser show, video animations, state of the art, high resolution LED screen technology and other special effects.  In addition and in true Pink Floyd fashion, there are several huge inflatables including a giant pig and their own unique Pink Kangaroo.
They have worked with Pink Floyd touring musicians like Guy Pratt, Durga McBroom and her sister Lorelei McBroom, as well as sound engineer Colin Norfield who worked with Pink Floyd during their 'Division Bell' tour and on David Gilmour's solo tours.
Often described as being much more than a tribute band, The Australian Pink Floyd Show is the first Pink Floyd tribute show that took the concept into the worldwide arena circuit.  The band has played to sell out audiences throughout Europe, UK, America, Canada, South America and Russia.
With over 30 years of history, the world's biggest, best and greatest Pink Floyd tribute show continues to delight its global fan base.
After nearly 40 years performing, it is time to shine on again as The Australian Pink Floyd Show returns with a new tour for 2023.
"The Dark Side of the Moon" Tour will celebrate the 50th anniversary of Pink Floyd's eighth studio album and bring to the stage the songs that mean so much to Pink Floyd fans all over the world.  State of the art lighting and video, pinpoint lasers, gargantuan inflatables, and flawless live sound that was the benchmark of Pink Floyd shows, TAPFS guarantees to deliver a memorable live experience.
Originally released in March 1973, The Dark Side of the Moon is among the most critically acclaimed records in history, has been certified 14 times Platinum in the UK, and spent 962 weeks in the Billboard Top 100.  It is Pink Floyd's most successful, and one of the bestselling albums of all time.
TAPFS will feature The Dark Side of the Moon in its entirety in the first half of the performance, followed by a selection of Pink Floyd's iconic tracks in the second half.  Replicating music from every phase of Pink Floyd's journey, this tour reinforces TAPFS's dedication to the heritage of Barrett, Waters, Gilmour, Wright & Mason with a show that pays sincere and genuine tribute to those legendary Pink Floyd productions.
More information on The Australian Pink Floyd Show can be found at www.aussiefloyd.com.
Enhance your Silver Creek or Ribbon Town experience with a dinner and hotel package. Package details vary based on event and can be purchased through Ticketmaster.com. Please check back for entertainment scheduling updates; watch for concert announcements by following us on Facebook and Twitter.