Interview with America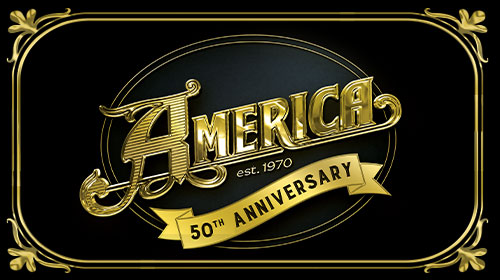 We were excited to get a few minutes of Dewey Bunnell's time to answer a few questions.
Of all your albums which one was the hardest to complete and why?
Hat Trick took the longest. It was the 3rd album and we were producing it ourselves as we had done since the 1st album, which we co-produced. It was not necessarily hard to complete, but we realized how complex it really was to keep up with the administrative side as well as the creative side of producing a record. Consequently, we reached out to George Martin to produce our next 7 albums!
What is your favorite thing about performing today as opposed to 49 years ago?
I think we truly appreciate every performance now, taking nothing for granted as we try to make the show the best it can be every night.
You've performed all over the world. Where has been your favorite place to perform and why?
It's a privilege to be invited to play all around the world from Japan to Morocco, Europe to South America, Morocco to India…and beyond. We're always amazed at the fans we have in places faraway, but Italy has always been a favorite place to go over the years because the history and people and food are so great! We also always love playing Australia & New Zealand.
You are going to be part of a '70s Rock & Romance Cruise in 2020. What made you want to participate in that?
In recent years we have done a few cruises in the Caribbean…Jamaica, Cozumel, Turks & Caicos, Cayman Islands. The cruises are obviously a different environment making a change from our usual touring schedule and include many Classic Rock artists we know, and some we meet for the first time, making them a "family" affair.
When can fans expect new music?
At the moment we are involved with several 50th Anniversary projects including box sets from Warner Bros. and Capitol Records, a Concert DVD from a performance at the London Palladium, a disc of unreleased demos of unheard material which is "new". Other archival retrospectives from our career will be released along with our published Authorized Biography in May of 2020. New music is never off the table and the new decade will no doubt see new music released.
From Comedy to Rock and Roll, Silver Creek Event Center has the best in headliner entertainment all year long. See more upcoming shows on our website.