Jerilyn and Chance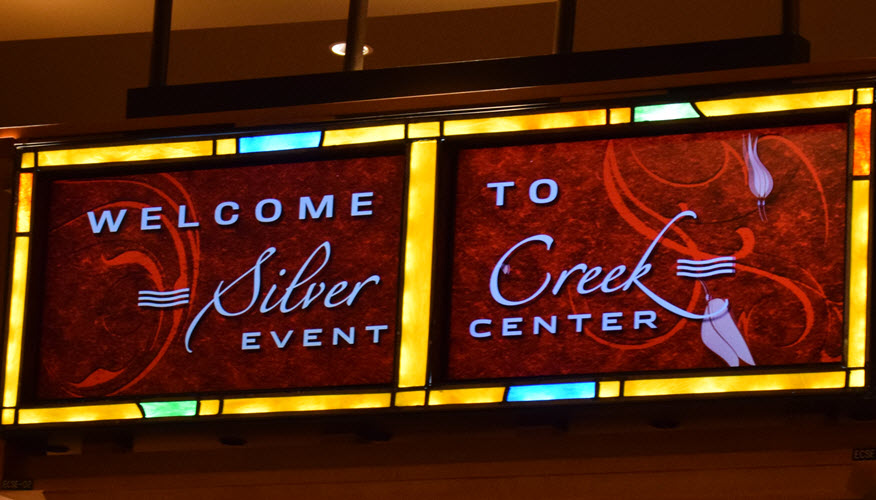 "They made my wedding day everything I wanted it to be!"
Congratulations to Jerilyn and Chance on their recent marriage. A wedding is one of the most memorable days as a couple and our team was thrilled to help Jerilyn and Chance plan their dream wedding. The wonderful bride said she was
"Looking for a convenient place to hold my wedding ceremony and reception and also have a place to go if people wanted to keep hanging out after the reception was over. I have had dinner meetings for work at Silver Creek Event Center and they always look so nice and the food is always amazing. It is a place that took care of everything I needed."
At Four Winds New Buffalo we offer six great spaces to host events. Jerilyn and Chance chose to transform 17,000 square feet of Silver Creek Event Center into the perfect space for their wedding.
"It was perfect. I used one of the four rooms for my small wedding ceremony and for pictures and it worked out great. Then the other three rooms were used for the reception and we ended up pushing back the one wall so that my event could be setup just how I wanted. We had a cocktail hour at the bar outside the event center as well as hors d'oeuvres set up while guests were arriving. They also had high top tables set up by the bar which made it convenient for guests to mingle. I was able to go around to the majority of my guests during the reception and all I heard was how amazing the food was. Everyone was so happy with the meal, it was delicious."
From setup to the smallest detail on the center pieces, the Four Winds sales team takes pride in checking all the boxes and organizing all your needs for a stress-free event.
"Dakota and Frances were the best people to work with. Everything I asked, they accommodated. They made me feel like anything I wanted or needed, they would make happen. I didn't have many details for my wedding, so Dakota came up with centerpieces to make my tables look simple but elegant – which was perfect for my style. They both met with me several times prior to the wedding just to make sure we were all on the same page and never made me feel like I was bothering them. Even the day of the wedding, they made sure everything was taken care of so I didn't have to worry about a thing. Although the whole event went by fast for me, the biggest thing I remember is everyone being thrilled with the food and the setup was just what I wanted. And I remember talking to Frances and Dakota that day and they made me feel like I didn't have to worry about a thing because I knew they were taking care of it."
Four Winds Hotel offers luxurious accommodations allowing guests to enjoy the thrilling atmosphere, live entertainment, and exceptional dining without having to leave our beautiful location.
"Our suite was perfect; the groom was able to get into the room early enough to get ready up there before the wedding and it was a nice area to go and relax after all the wedding festivities were done."
Thank you to Jerilyn and Chance for allowing us to be part of your special day. It's a joy to help create the special moments and we're happy to have Jerilyn's recommendation.
"It would be my first recommendation if anyone askes me where to host an event. I would highly recommend working with Dakota and Frances for any event, they are experts at their jobs! From start to finish, the planning process was so easy. I would write down my questions/concerns and Frances and Dakota would answer them. They were always quick to respond if I had any questions and they made planning the whole event super easy. They made my wedding day everything I wanted it to be."
We have everything you need to make your special day unforgettable. To learn more about planning your event at Four Winds Casino, please contact our sales team.