Stars At Silver Creek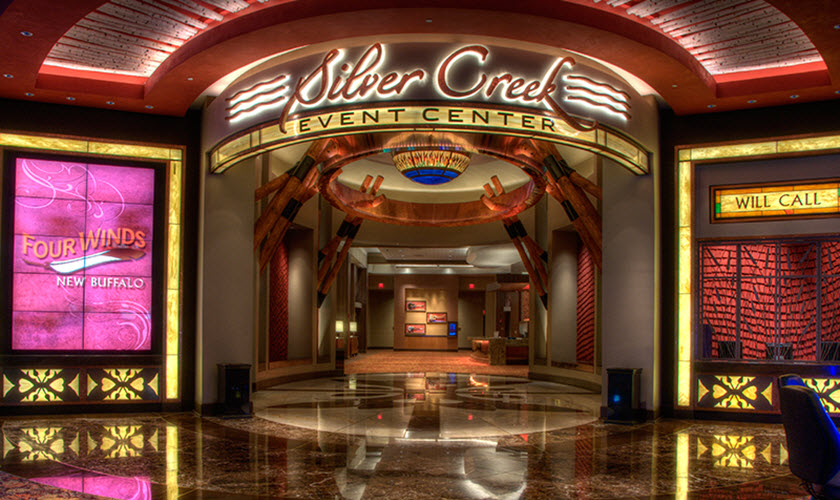 Silver Creek Event Center is the place to go for legendary concerts and comedians!
Carrot Top – May 21
Scott "Carrot Top" Thompson has been making audiences around the world laugh for more than three decades. Since his debut on "Star Search," Carrot Top has soared to success and become one of the most recognizable entertainers in the world. Since 2005, fans have flocked to his Las Vegas headlining residency at Luxor Hotel and Casino to catch comedy's King of Props induce sidesplitting laughter with his current take on pop culture, music, and headlines of the day in a continually evolving show. The trademark red locks and the undeniably inventive use of props have vaulted Carrot Top to the level that most comedians can only hope to reach.
"Nobody can steal my act," said Carrot Top, who constantly channels his creative genius to invent new props. "I love creating props that are relevant to whatever's current – from a news headline to a song I heard on the radio."
Carrot Top got his start as a student at Florida Atlantic University in Boca Raton, Florida during his freshman year, when he went to a club and saw live standup comedy for the first time. A few months later, his roommate convinced him to sign up at an open mic night and after a handful of nerve-wracking first performances, he had caught the comedy bug.
After building a following on the comedy circuit that made people laugh nearly every weekend, his first television appearance was on "Comic Strip Live" in 1991. Things changed for Carrot Top forever in 1992 with his first appearance on "The Tonight Show." That appearance exposed his unique brand of comedy to every home in America. After an impressive 31 appearances, Carrot Top had the distinct honor of appearing on the very last episode of "The Tonight Show with Jay Leno." Carrot Top's other credits include hundreds of television programs including "Live with Regis and Kelly," "Politically Incorrect with Bill Maher," "The Late, Late Show with Craig Ferguson," "Late Night With Conan O'Brien," "CSI: Crime Scene Investigation," "Gene Simmons' Family Jewels," "Chelsea Lately," "Last Comic Standing," "Criss Angel – Mindfreak," "Tom Green Live," "The Neighbors," "The Jim Gaffigan Show," "Tosh.O," "Glee," "Family Guy," "The Ellen DeGeneres Show," Oprah Winfrey Network's "Where Are They Now?," ESPN commercials, and as spokesman for 1-800-CALL-ATT. Carrot Top also starred in his own movies "Chairman of the Board" and "Dennis the Menace Strikes Again." Most recently, he appeared in "Sharknado: The 4th Awakens," "The Hangover," and the Trailer Park Boys' film "Swearnet: The Movie."
Carrot Top's shows are a spectacle worthy of most arena rock bands and features lights, music, fog machines, and streamer cannons – all in addition to his trunks full of props.
"When I started touring at the beginning of my career, I had two trunks and a strobe light," said Carrot Top. "Things got pretty crazy pretty fast and before I knew it, I had a team touring the country in an 18-wheeler with 35 trunks full of props."
David Feherty – May 27
David Feherty is a former professional golfer on the European Tour and PGA Tour, and now works as a writer and broadcaster with NBC Sports and the Golf Channel. He started playing professional golf in 1976 and spent most of his playing career in Europe, where he won five times and finished in the top ten twice in the European Tour's Order of Merit, placing tenth in 1989 and eighth in 1990. He spent 1994 and 1995 playing mainly on the PGA Tour in the United States, and the best result on the tour was a second place finish at the 1994 New England Classic. David represented Ireland in international competition and captained the victorious 1990 Alfred Dunhill Cup team and played for Europe on the 1991 Ryder Cup team.
In 1997, David retired from the tours and became an on-course reporter and golf analyst. The first episode of "Feherty" debuted in 2011 as the most-watched premiere for an original series in Golf Channel history. Over the span of five seasons, David welcomed a variety of guests on his show, including golf-loving personalities like former President Bill Clinton, former New York City Mayor Rudy Giuliani, five-time NBA MVP Bill Russell, comedic genius Larry David, actors Samuel L. Jackson and Don Cheadle. In 2014, David was nominated for a 2014 Emmy Award for Outstanding Sports Personality, Studio Host.
In 2014, David decided to take his act on the road and travel across North America for his new live show Feherty Off Tour. His cutting edge style is full of great stories from behind the scenes, a show you don't want to miss. More information on David Feherty is available at www.fehertyofftour.com.
Rick Springfield – May 28
Over the past four decades, Rick Springfield has worn many hats as an entertainer and performer. He is the creator of some of the finest power-pop of the '80s, a Grammy winning singer, songwriter, and musician who has sold 25 million albums and scored 17 U.S. Top 40 hits, including "Jessie's Girl," "Don't Talk to Strangers," "An Affair of the Heart," "I've Done Everything for You," "Love Somebody," and "Human Touch." He's an accomplished actor who has starred opposite Meryl Streep in the feature film "Ricki and the Flash," gave a chameleonic performance as the creepy Dr. Pitlor in HBO's prestige drama "True Detective," earned great reviews for his portrayal of Lucifer on the CW hit "Supernatural" and most recently played Pastor Charles on "American Horror Story." In 2014, Springfield was honored with a star on the Hollywood Walk of Fame, located around the corner from the first apartment he lived in when he first arrived in the United States from Australia in 1971. Rick's most recent album "Orchestrating My Life" was released in 2019. More information is available at www.rickspringfield.com/.
Johnny Mathis – June 10
Best-known for his supremely popular hits like "Chances Are," "It's Not for Me to Say," and "Misty," Johnny has recorded more than 80 albums, 6 Christmas albums, and has sold millions of records, worldwide. During his extensive career he has had three songs inducted into the GRAMMY® Hall of Fame, achieved 50 hits on Billboard's Adult Contemporary Chart, and ranks as the all-time #6 album artist in the history of Billboard's pop album charts. Johnny has received five GRAMMY nominations, and in 2003, was given the GRAMMY Lifetime Achievement Award. His 1958 album, "Johnny's Greatest Hits," started the music industry tradition of "Greatest Hits" albums, which is noted in Guinness Book of World Records for a nearly 10-year run on the Billboard Top Albums Chart. Johnny continues to be Columbia Records longest signed recording artist, and to fans of all ages The Voice Of Christmas! More information on Johnny Mathis is available at www.johnnymathis.com.
The Marshall Tucker Band – June 25
When you wake up and want to put a smile on your face, you think of the songs that always manage to reach down and touch your soul the moment you hear the first note. The Marshall Tucker Band is one such group that continues to have a profound level of impact on successive generations of listeners who've been "Searchin' for a Rainbow" and found it perfectly represented by this tried-and-true Southern institution over the decades.
The Marshall Tucker Band came together as a young, hungry, and quite driven six-piece outfit in Spartanburg, South Carolina in 1972, having duly baptized themselves with the name of a blind piano tuner after they found it inscribed on a key to their original rehearsal space — and they've been in tune with tearing it up on live stages both big and small all across the globe ever since. The band's mighty music catalog consists of more than 20 albums, a score of live releases, and has racked up multi-platinum album sales many times over. Some favorites include "Heard It in a Love Song," "Can't You See," and "Fire on the Mountain" to name only a few great hits. The MTB is a group that continues to have a profound level of impact on successive generations of listeners.
The secret ingredient to the ongoing success of The Marshall Tucker Band's influence can be seen and felt far and wide throughout many mainstream digital outlets (Netflix, Amazon, etc.). In essence, it's this inimitable down-home sonic style that helped make the MTB the first truly progressive Southern band to grace this nation's airwaves — the proof of which can be found within the grooves and ever-shifting gears of "Take the Highway," the first song on their self-titled April 1973 debut album on Capricorn Records, The Marshall Tucker Band. The MTB's influence can be felt through the sounds of a wide range of respected contemporaries like The Charlie Daniels Band, The Outlaws, and Collective Soul. For more information on the MTB visit, www.marshalltucker.com.
38 Special – July 8
After more than four decades together, 38 SPECIAL continues to bring their signature blast of Southern Rock to over 100 cities a year. At each and every show, thousands of audience members are amazed by the explosive power of the band's performance. Their many Gold and Platinum album awards stand in testament to the endurance of a legendary powerhouse. With sales in excess of 20 million, most associate the band with their arena-rock pop smashes, "Hold On Loosely," "Rockin' Into the Night," "Caught Up in You," "Fantasy Girl," "If I'd Been the One," "Back Where You Belong," "Chain Lightnin'," "Second Chance," and more. 38 SPECIAL's timeless hits remain a staple on radio, immediately recognizable from the first opening chord, and paving the way to their present-day touring regime. More information on 38 Special can be found at www.38special.com.
Nelly – July 9
In 2000, Nelly put St. Louis on the map. At the time, hip-hop was just barreling out of the '90s, when gangsta rap and the Shiny Suit era largely held the spotlight and gradually introduced rap music to a broader audience. The East and West coasts steered the sound and aesthetic of hip-hop as it gained footing in the pop world, staking territory in an industry that had largely favored pop and rock in the decades prior.
But with the release of Country Grammar, his blockbuster debut album, Nelly rewrote the rules of what a rap star could be. Country Grammar, which released on June 27, 2000, became an astronomical success, topping the Billboard 200 for five consecutive weeks and the US Top R&B/Hip-Hop Albums chart for six. It spawned four colossal singles—"Country Grammar," "Hot Shit," "E.I.," "Ride Wit Me," and "Batter Up"—that were inescapable smashes, with three becoming top 20 hits on the Hot 100.
Its legacy endured. In the years that followed, Country Grammar solidified Nelly as one of the most influential and foundational hip-hop artists of the '00s, cementing him as the third-most successful artist of that decade. In 2016, Country Grammar became the ninth hip-hop album to earn a coveted diamond certification and set the stage for a trailblazing career that followed, counting four singles to hit No. 1 on the Hot 100, three No. 1 albums on the Billboard 200 and tens of millions in sales.
For Nelly, though, the triumph of his debut album was beyond just accolades and units moved, marking a moment in pop culture that hadn't yet been seen: a rapper from the Big Arch competing in the same league as contemporary pop juggernauts like Britney Spears and *NSYNC. In what could be considered overnight success, Nelly, then 25, pioneered a style yet to be heard and duplicated countless times by others in the years that followed. In a singsong drawl that mined from the laidback demeanor of Southern emcees, he filtered braggadocio raps beaming with Midwestern pride through melodies that effortlessly smudged the line between R&B and hip-hop. Never before had an emcee so casually architected a sound as specific as Nelly who, along with his St. Lunatics crew, had disrupted the coastal dominance of hip-hop and confected an album that would slingshot around the world.
With an introduction and closer from Missourian comedic legend Cedric the Entertainer, Country Grammar is an insular album with instant appeal that captures the spirit of St. Louis from the start. Lead single "Country Grammar (Hot Shit)" was emblematic of the elastic, double-dutch flow that permeated the record, from the revved-up battle cries on "E.I." to the unshakeable pop distinction of "Ride Wit Me." But it's also an album smeared with the grit of the city: rap attack "Wrap Sumden" is a luscious paean to smoking weed, while the Lil Wayne-assisted "For My" is a call to arms to everyone in the Lou living life to the fullest.
It's poetic that an album dedicated to life in the city that made Nelly a superstar also helped him reach far beyond the city limits. In the years that followed the release of Country Grammar, he shared the stage with Destiny's Child, Eve and Jessica Simpson on the Total Request Live Tour, and performed during the Super Bowl XXXV halftime show. He won three Grammy Awards, released six top-selling studio albums and graced both the small and big screens alongside Adam Sandler and Chris Rock.
But as Country Grammar turns 20, it's impossible to deny how Nelly rewrote the rules of what it means to be a rapper at the dawn of the new millennium, breaking down the door for the pop-rap hybrids that followed and altering the course of hip-hop forever. Nelly may have gone on to achieve international acclaim, but St. Louis—and the album that made it—will always be his foundation.
More information on Nelly can be found at www.nelly.net.
LeAnn Rimes – July 9
GRAMMY AWARD-WINNING ARTIST LEANN RIMES ANNOUNCES NATIONAL TOUR, THE STORY…SO FAR, IN SUPPORT OF 25TH ANNIVERSARY & FORTHCOMING ALBUM GOD'S WORK
RIMES LAUNCHES SEASON THREE OF IHEARTRADIO MENTAL HEALTH AND WHOLENESS PODCAST, WHOLLY HUMAN; LISTEN HERE
the story.. so far will tell the story of Rimes' impressive career over the past 25 years and will give a glimpse into her new music. Throughout this past year, the singer-songwriter has been celebrating her monumentous 25th anniversary as a recording artist, commemorating the release of her debut album "Blue," which made an ever-lasting impact on the music industry. Following the release, Rimes went on to win her first GRAMMY Award at age 14, making her the youngest solo artist to win to-date. To mark this moment and celebrate LeAnn's milestones along the way, the tour's setlist will feature a mix of her greatest hits, as well as new, unreleased music from her forthcoming album, god's work, expected later this year.
This week, Rimes also kicked off season three of her iHeartRadio mental health and wholeness podcast, Wholly Human, which brings her lifestyle blog, Soul of EverLe, to life and introduces fans to the teachers and wise souls that have made a positive impact on her life. Season three will feature guests including international bestselling author and motivational speaker Mel Robbins, Licensed Professional Counselor and practicing anxiety coach Nancy Jane Smith, bestselling author, speaker and fasting expert Dr. Mindy Peltz, Harvard-trained sociologist, world-renowned coach and New York Times bestselling author Martha Beck, PhD, and more.
To stay up-to-date on LeAnn's upcoming projects, please visit: https://leannrimes.com/
About LeAnn Rimes: LeAnn Rimes is an international multi-platinum selling acclaimed singer and ASCAP award-winning songwriter who has sold more than 48 million units globally, won 2 Grammy® Awards; 12 Billboard Music Awards; 2 World Music Awards; 3 Academy of Country Music Awards; 2 Country Music Association Awards and one Dove Award. At 14, Rimes won "Best New Artist" making her the youngest solo artist to take home a Grammy® Award, and at 15, she became the first country artist to win "Artist of the Year" at the Billboard Music Awards.
Out of the 42 singles she has released throughout her expansive career, LeAnn's ballad "How Do I Live" holds the record as Billboard's Hot 100 all-time #1 hit by a female artist and continues to rank #4 on Billboard's "Greatest of All Time: Hot 100 Song." 15 of her multi-genre singles are top-10 hits, including "Can't Fight the Moonlight," which went #1 in 11 countries.
In 2017, the world-renowned singer released her 16th studio RCA UK/Thirty Tigers album, Remnants, which debuted at # 4 on Billboard's Independent Album Chart, peaked at #3 on iTunes ® overall charts in its first week, garnered two #1 Billboard Dance hits with "Long Live Love" and "LovE is LovE is LovE," and one Top 5 hit with "Love Line." In the fall of 2018, Rimes revealed a new EP for her fans titled Re-Imagined that featured five new versions of some of her record-breaking hits, including an epic duet with the music icon Stevie Nicks. Most recently, the Grammy-winning superstar unveiled her first-ever LIVE recording as an exclusive vinyl release in honor of the 2019 Record Store Day titled "Rimes: Live at Gruene Hall" where Rimes celebrated music of all genres.
The powerhouse vocalist lit up television screens throughout the 2018 holiday season as she starred and served as an Executive Producer in Hallmark's "It's Christmas, Eve," which earned the highest TV original movie debut to-date for the channel premiering to over 4.3 million viewers. In 2020, Rimes shined the brightest and won season four of FOX's The Masked Singer, with Entertainment Weekly stating that she delivered "… the most beautiful performance in the history of The Masked Singer." Most recently, she served as the inspiration judge on the Discovery+ competition series, Meet Your Makers Showdown, which started streaming November 2021.
Passionate about using her voice to help heal the world, LeAnn was honored with the Ally of Equality Award by the Human Rights Campaign for her over 20 years of support of equal rights, the 2019 HOPE Award for Depression Advocacy, and 2009 ACM Humanitarian Award, among other recognitions. She continues to channel her voice in new ways, releasing CHANT: The Human & The Holy (EverLe Records / Thirty Tigers), which spent 5 weeks at #1 on iTunes New Age Chart, as well as her iHeartRadio mental health and wholeness podcast, Wholly Human, that brings her lifestyle blog, Soul of EverLe, to life. Going into its third season, Wholly Human reached #2 on iTunes Health & Fitness Chart and placed in the Top 35 overall for podcasts worldwide. LeAnn is now celebrating her 25th anniversary as a recording artist, commemorating the release of her debut album "Blue," and will release her next studio album, god's work, in 2022.
Pat Benatar & Neil Giraldo – July 22
Pat Benatar is a four-time Grammy winner and classically trained mezzo-soprano. During the 1980s, Benatar had two RIAA-certified Multi-Platinum albums, five RIAA-certified Platinum albums, three RIAA-certified Gold albums and 19 Top 40 singles, including the Top 10 hits, "Hit Me With Your Best Shot," "Love Is a Battlefield," "We Belong," and "Invincible." During the early days of MTV Benatar was one of the most heavily played artists on the popular music channel. Her hits continue to be as unforgettable now as they were at the dawn of MTV, when Pat emerged, fearless, fighting and forging a path for other female rock stars around the world.
Neil "Spyder" James Giraldo, has been a professional musician, producer, arranger and songwriter for over four decades now, changing the face of the pop charts throughout the 1980s with his collaborator, muse and wife, Pat Benatar. More than just an explosive steel bending guitar player, Giraldo's innovative vision helped him create the signature Benatar sound, from its inception. His impressive back catalog includes more than 100 songs written, produced, arranged and recorded for Benatar, as well as many hits he helped create for John Waite, Rick Springfield (Number One, Grammy-winning classic "Jessie's Girl" and Top Ten hit "I've Done Everything For You" included), Kenny Loggins (Top Twenty hit "Don't Fight It" – also Grammy-nominated), Steve Forbert, The Del Lords, Beth Hart and countless others.
More information on Pat Benatar and Neil Giraldo can be found at www.benatargiraldo.com.
Happy Together Tour – August 12
2022 will mark the 13th year of the highly successful, hit-filled summer package, The "Happy Together" Tour. The touring sensation that has crisscrossed the nation delighting audiences for a over a decade returns this summer with a show full of chart-topping hits from the '60s and '70s – an undeniable 61 Billboard Top 40 smashes. The Tour is once again joined by The Turtles, who also act as musical hosts for the evening. Along with The Turtles will be Gary Puckett & The Union Gap, The Association, The Buckinghams, The Vogues, and The Cowsills.
The Turtles are best known for their harmony-heavy California pop sound. With such hits as "Elenore," "She'd Rather Be With Me," "It Ain't Me Babe," "You Showed Me," and the title of the tour, "Happy Together," the band ruled the airwaves in the late '60s. Ron Dante joins the line-up to delight with his own mega-hits, "Sugar" and "Tracy."
Gary Puckett & The Union Gap are back on The "Happy Together" Tour for 2022. Gary's trademark voice will be belting out his hits one more time. Fans will affectionately remember "Young Girl," "Over You," "Woman, Woman," "This Girl Is A Woman Now," "Lady Willpower," "Don't Give In To Him" and more.
Also returning to the tour for 2022 are The Association, who enjoyed massive radio success in the '60s with such #1 hits as "Cherish," "Windy," "Never My Love," and "Along Comes Mary." This iconic vocal group was a staple on the radio airways in the 1960s.
The Buckinghams were formed in 1966, and went on to become one of the top selling acts of late 1960's, including their #1 hit "Kind of a Drag," and other hits "Don't You Care," "Mercy, Mercy, Mercy," and "Hey Baby, They're Playing Our Song." With three chart hits at one time on two labels in 1967, Billboard Magazine named them "The Most Listened to Band in America."
The Vogues are also known for their harmony-driven soaring pop sound. The Vogues had numerous Top 10 hits with singles such as "Five O'Clock World," "You're The One," "My Special Angel," and "Turn Around Look At Me," among others.
Rounding out the bill are The Cowsills, the harmonious family act (two brothers and a sister) that inspired the smash '60s hit television show, The Partridge Family. They are sure to delight with their best-known songs, "Hair," "Indian Lake," "The Rain The Park & Other Things (I Love The Flower Girl)" and more.
The tour has played more than 50 plus shows a year and 2022 will be no exception. More information on the Happy Together Tour is available at https://theturtles.com/tour.
Tower of Power – August 13
For more than 50 years, Tower of Power, originally called "The Motown's" when the band first gathered, has delivered the best in funk and soul music. While having started out as a soul band, the group changed its mission that defined their sound and led them to Warner Brothers with their songs for East Bay Grease. The Bump City label, that debuted in 1972 being a success where two hits, "You're Still a Young Man" and "Down to the Nightclub" both landed on the Billboard 200 and the R&B Albums Chart. Other radio classics during the 70s included "So Very Hard to Go" and "What is Hip?" The bands love for performing and taking the stage is the same today as it was back during that period.
In 2018, the band went to Oakland to celebrate their landmark 50th anniversary and released 50 Years of Funk & Soul: Live at the Fox Theater. Their window-rattling grooves and raucous party spirit has been a soul staple throughout their half-century existence. The band has traveled the world and has enjoyed working on their own and backing legendary artists including Otis Redding, Elton John, Santana, Grateful Dead, John Lee Hooker, Aerosmith, Bonnie Raitt, and countless other musicians. In working alongside musician greats, the band has been able to truly define their "Oakland soul" that sets them apart and gives them that distinctive sound. The band continues to hit the road to provide a dynamic show for its fans all around the world who are starved for the band's unique groove. More information on Tower of Power is available at https://towerofpower.com/.
Australian Pink Floyd – September 9
The Australian Pink Floyd Show performs the music of Pink Floyd with note for note perfection. This critically acclaimed show has been astonishing audiences worldwide for more than three decades – always striving to reproduce the complete Pink Floyd experience and bring the music to new audiences. The show continues to include a stunning light and laser show, video animations, state of the art high resolution LED screen technology and other special effects. In addition, and in true Pink Floyd fashion, there are several huge inflatables including a giant pig and their own unique Pink Kangaroo. Often described as being much more than a tribute band, the Australian Pink Floyd Show is the first Pink Floyd tribute show that took the concept into the worldwide arena circuit. The band has played to sell out audiences throughout Europe, the United Kingdom, the United States, Canada, South America, and Russia.
The All That Your Feel Tour in 2022 will bring to the stage the songs that mean so much to Pink Floyd fans all over the world. Representing music from every phase of Pink Floyd's journey, from "Ummagumma," to "The Division Bell," and all points in between this tour will once again reinforce the Australian Pink Floyd Show's dedication to the heritage of Barrett, Waters, Gilmour, Wright, and Mason with a show that pays sincere and genuine tribute to the legendary Pink Floyd productions. State of the art lighting, crystal clear video, pinpoint lasers, gargantuan inflatables, and flawless live sound that was the benchmark of Pink Floyd shows, the Australian Pink Floyd Show guarantees to deliver a memorable live experience. More information on the Australian Pink Floyd Show is available at www.aussiefloyd.com.
Dionne Warwick – September 16
Dionne Warwick is a six-time Grammy Award-winning music legend who has earned more than 75 charted hit songs and sold over 100 million records. She was discovered by Burt Bacharach and Hal David in 1961 and went on to record 18 consecutive Top 100 singles ("Don't Make Me Over," Walk on By," "Say a Little Prayer," "A House is Not a Home," "Alfie," "Heartbreaker," "Déjà Vu," among countless others). She received her first Grammy in 1968 for "Do You Know the Way to San Jose?". Ms. Warwick became the first African-American solo female artist of her generation to win the prestigious award for Best Contemporary Female Vocalist Performance.
In 1985, she participated in the recording of "That's What Friends Are For," which became a number-one hit worldwide and raised awareness and major funds for AIDS research, which she continues to support, among other causes such as The Starlight Foundation, children's hospitals, world hunger, disaster relief, and music education for which she has been honored and has raised millions of dollars. Ms. Warwick also participated in the all-star charity single, "We Are the World" and performed at "Live Aid."
Ms. Warwick has been honored by AMFAR, the Desert Aids Project, and Clive Davis at his pre-Grammy party. Ms. Warwick was also inducted into The Grammy Museum where a special 50th Anniversary career exhibit was unveiled. Most recently, Ms. Warwick released a star-studded duets album entitled, "Feels So Good," featuring collaborations with some of today's greatest artists. Most recently, Warwick was the recipient of the coveted and prestigious 2017 Marian Anderson Award for her career accomplishments and philanthropy. She was honored in a 2018 PBS Television Special, "Then Came You," was named 2019 Ambassador to the Smithsonian Institute's Year in Music and is a 2019 Grammy Lifetime Achievement Award recipient.
More information on Dionne Warwick can be found at https://www.officialdionnewarwick.com/.
Ringo Starr & His All Starr Band – October 1
Ringo Starr and His All Starr Band -Steve Lukather, Colin Hay, Warren Ham, Gregg Bissonette, Hamish Stuart and Edgar Winter – announce additional shows for 2022.
Throughout his career, Ringo Starr has received nine GRAMMY® Awards and has twice been inducted into the Rock and Roll Hall of Fame — first as a Beatle and then as solo artist. Between 1970 and 2020, Ringo has released 20 solo studio records and 2 EP's in 2020 and 2021. He has acted in over 15 films, received an Academy Award®, and has been nominated as an actor for an Emmy®. Ringo has published 8 books; had a stint as a male fashion model, and that same year went behind the lens as the photographer for some Foo Fighters PR photos. In 2018, Ringo was knighted and in 2019 he celebrated 30 years of touring with his All Starr Bands. For all his many creative successes, Ringo is and always will be first and foremost a musician, a drummer. Ringo's candor, wit and soul are the lifeblood of his music. Peace and love are his life's rhythm and melody, and he propels this universal message in everything he does: his evocative artwork, his enthusiastic live performances, his legendary songs, all imbued with the joy, reflection, and wisdom of the music icon the world knows and loves simply as "Ringo."
For more information please visit: www.RingoStarr.com.
Marie Osmond – November 26
Marie Osmond has spent 5 iconic decades in the entertainment business performing as a successful singer, television performer and talk show host, dancer, actor, author, entrepreneur and public speaker. She has continued to maintain relevance, remaining an instantly recognizable figure across the globe.
Her debut single Paper Roses reached the #1 spot on two Billboard charts, a feat that not only placed her among an elite class of musical royalty, but instantly catapulted her into international superstardom.
She is a multiple gold and platinum selling artist and CMA winner, garnering numerous Billboard chart-topping singles and albums, and three New York Times Bestselling books. She has entertained millions throughout the world through television, radio, film, literature, live concerts and Broadway performances. As a philanthropist, she cofounded Children's Miracle Network Hospitals, which has raised over 7 billion dollars for children to date. Marie was recently awarded "The Secretary of Defense Medal for Outstanding Public Service" by 4-Star General Bob Brown, U.S. Army Pacific (representing Secretary of Defense James Mattis), during her Birthday concert in Hawaii. In 2019 the Hollywood Beauty Awards gave Marie the "Timeless Beauty Award" which is an honor bestowed upon a public figure that has maintained their grace and remained a positive influence and role model to their fans throughout their career. In August of 2019 Marie and Donny received the Key to the Las Vegas Strip and in October 2019 they cemented their legacy with a star on the Las Vegas Walk of Stars.
Marie was previously a co-host on the award-winning daytime show "The Talk." Since Marie and brother Donny ended their 11-year residency at the Flamingo in November 2019, she travels the U.S. with her sell-out Symphonic shows. Her performances receive rave reviews.
Marie continues to perform and raise money for children's hospitals, research and awareness. She has influenced countless audiences and benefited an innumerable amount of lives worldwide.
Marie has always had great affection for her countless fans and personally keeps in touch daily with them on: www.facebook.com/marieosmond, http://twitter.com/marieosmond, http://instagram.com/therealmarieosmond .
Enhance your Silver Creek experience with a dinner and hotel package. Package details vary based on event and can be purchased through Ticketmaster.com. Please check back for entertainment scheduling updates; watch for concert announcements by following us on Facebook and Twitter.