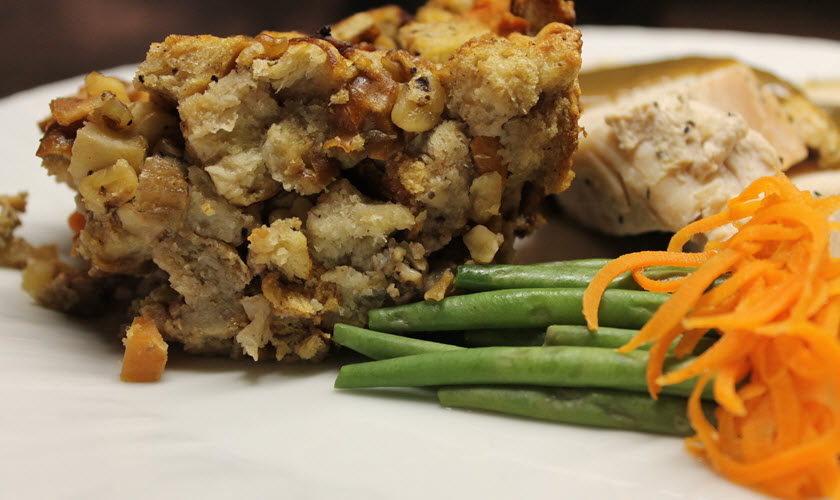 Holiday Cooking: Bacon Apple Walnut Dressing
Date of Post: Dec 19, 2013
It's the time of year when holiday cooking is in full swing. From turkey and ham to homemade cookies and treats, this time of year is one of our favorite times at Four Winds Casinos. We're cooking and baking your favorites here at Copper Rock Steakhouse, Hard Rock Cafe, The Buffet and Timbers.
Chef David Sarafin created this amazing exclusively for our guests, and we're excited to share it with you.
Bacon Apple Walnut Dressing
8 cups of pretzel bread (diced into ¼" pieces)
1 lb of bacon diced into large pieces
2 cloves of minced garlic
½ cup of diced celery
½ cup of diced carrot
1 cup of diced onion
1 cup of diced apples
½ cup of chopped walnuts
2 tablespoons of brown sugar
½ tablespoon of rubbed sage
3 eggs (beaten)
3 cups of apple juice
½ tablespoon of black pepper
1 tablespoon of kosher salt
Instructions
Preheat oven to 250˚.
Place the diced pretzel bread on a sheet tray and place in the oven for 10 to 15 minutes to dry out the bread, paying attention not to brown it. Once the bread is dried out, remove it from the oven and turn the heat up to 350˚.
Place the bacon into a heavy bottom sauté pan, and place on stove top over medium-high heat. Render the bacon fat for 15 to 20 minutes, being careful not to crisp the bacon. Once the fat has rendered, remove and reserve the bacon.
Return the sauté pan to the stove and turn the heat to high. Add the garlic, and stir with a heat resistant spoon for approximately one minute.
Add the celery, carrot, and onion sauté for three to four minutes.
Add the apples and walnuts and sauté for an additional three minutes. Then add the brown sugar, sage, and reserved bacon. Remove the mixture from the heat and place in a large bowl to cool.
Once the mixture has cooled, stir in the dried pretzel bread.
Add the apple juice and beaten eggs.
Mix everything together with a spoon to help the bread adsorb the juice and finish with salt and pepper.
Spray a baking pan with non stick vegetable spray and place the dressing mixture into the pan.
Cover with foil and bake at 350˚ for 20 to 25 minutes, then remove foil and continue to cook for 10 to 12 minutes to color the top.
We hope you'll try this amazing, one-of-a-kind recipe and share it with your family. From your family at Four Winds Casinos, happy holidays!