Bruschetta Inspired Chicken Sandwich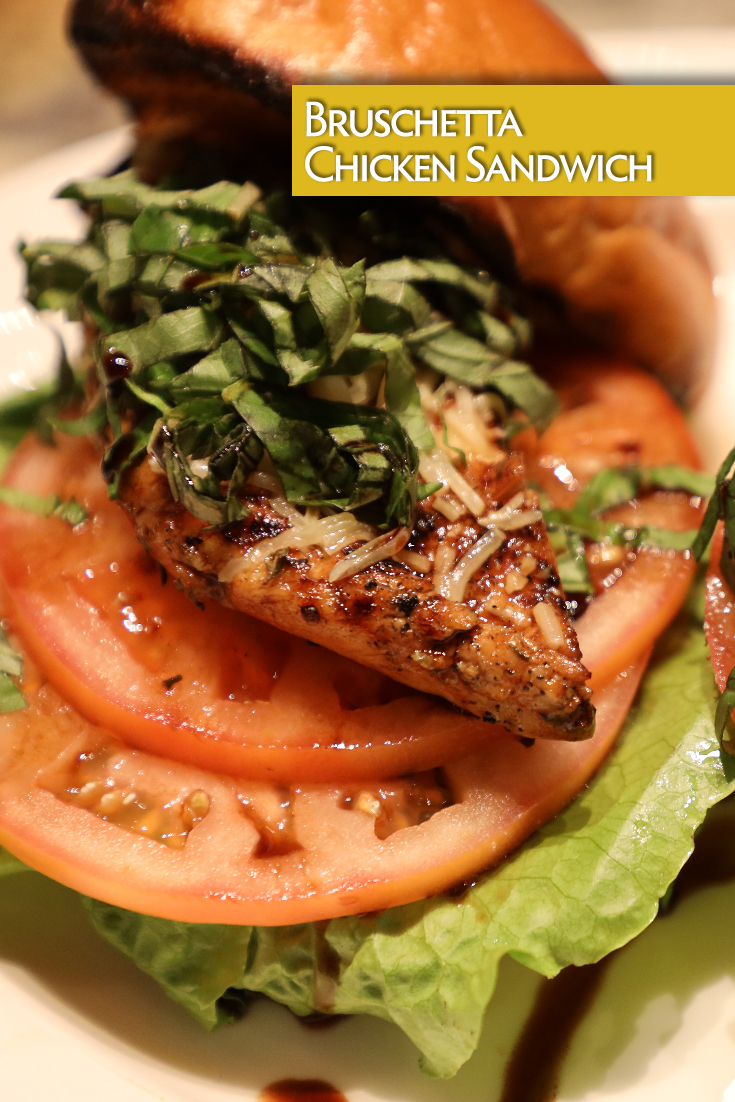 Step 1
—– Gather your ingredients—-
4-6 oz boneless skinless chicken breasts, up to 4  
Brioche bun, up to 4 
2 oz fresh shaved or grated Parmesan per chicken breast
Leaf lettuce, clean leaves
Tomato, sliced
Fresh Basil, Chiffonade  
Olive oil
Balsamic vinegar
Garlic
Basil, dry
Salt and pepper
Lemon juice

Step 2 Make Marinade
—-Balsamic Marinade—–
Mix in a non-reactive bowl and whisk together. 
Olive oil – 2 cups
Balsamic vinegar – 1 cup
Garlic – 3 cloves
Basil, dry – 2 tablespoons
Salt and pepper – to taste
Lemon juice – 1 tsp
After the marinade is made set aside about ¼ cup for later.
Add the chicken to the marinade ensuring complete coverage.
                Let rest in the cooler for 30 min to 2 hours.
Step 3— cook—
Reduce the reserved marinade by half in a small saucepan while the chicken is marinating.
                 Set aside in cooler. 
Remove the chicken from the marinade wiping off the excess.
Grill the chicken breasts for 3-4 minutes on each side thicker chicken may take longer.
                Turn the chicken 90 degrees after 2 minutes, to make diamond grill pattern. 
                Flip the chicken when edges show signs of cooking but turning color and stiffing a bit.
                Turn 2 minuets after flipping and add the cheese to the chicken to melt.
                Look for clear fluids and an internal temp of 165 to ensure doneness.
While the chicken is cooking smear just a bit of oil on the buns and toast on the grill.
                This should take a minute or less looking for the buns to toast not burn.
Step 4 — Assemble—
After toasting your buns add the lettuce then tomato to the bottom bun.
When the chicken in finished, add it to the sandwich.
Put generous amount of the chiffonade fresh basil on top of your chicken.
Use a spoon to add a drizzle of the reduced marinade over the basil and serve with the top bun to the side.